research
Small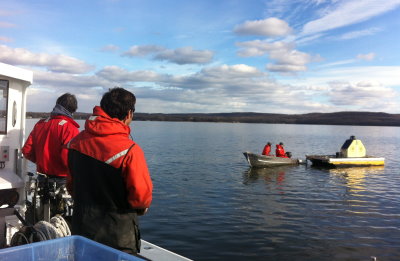 Research Themes

Researchers at UVM collaborate with other partners in the CIROH initiative to advance NOAA's capabilities in the below four themes, particularly community water resources modelling and its application to social, economic, and behavioral sciences.
The Water Resources Prediction team works on improving representation of floodplains and natural features for channel routing in the National Water Model.
More...
The Modeling team works on building advanced cyberinfrastructure resources necessary to fuse a diverse array of existing and new heterogeneous data sources for supporting expanded evaluation data testbeds in the Northeast.
Additional work includes forcasting the incidence and duration of harmful algal blooms (HABs) at daily, weekly and seasonal scales.
More...
The Hydroinformatics team works on leveraging emerging sensing technology and machine learning to improve and expand hydrological forecasting to hyper-local scales with National Water Model-coupled adaptive sensor networks.
Additional work includes:
Post-processing National Water Model output with spatially distributed turbidity sensing to forecast turbidity loading and source for reservoir operation management
Coupling novel low cost spatially distributed nutrient sensors and National Water Model output to forecast nutrient loading and inform state implementation of EPA mandated nutrient reduction targets.
More...
The Social Science team works on enhancing forecast design through experimental gaming and social impact assessment of connected river and floodplains.
Additional work includes developing a CIROH forecast design center to explore the heterogeneity of risk perception and behavior, and decision heuristics relative to water hazard mitigation that can be integrated into National Water Model products.
More...